If you don't already know, Stratfor is a private company, founded by George Friedman, that gathers international intelligence and creates reports which they sell to individual subscribers, businesses, and governments. They have been in the news recently because their data and email were seriously hacked. This is very interesting and sensitive stuff. WikiLeaks is publishing excerpts, and it is a big deal. Stratfor is being straightforward about the event, fixing the problem with a vengeance, and offering their clients extra value. I subscribe to their free newsletter and love it. I also love Friedman's recent books including "The Next Decade" and "The Next 100 Years."
I picked up my copy of the Fort Dodge Messenger this morning (Friday, March 9, 2012) and flipped to the editorials on page four. They are often more entertaining than the comics. Rachel Marsden's column "The new WikiLeaks stash" jumped right out and grabbed me. Sure enough, it was a critical (if not gloating) diatribe [yes, I admit to taking an emotionally-charged swing at some things myself] against Stratfor. The topic seemed out of place in Fort Dodge, Iowa. [Admittedly, I'm kinda out of place too. If there is anyone else around here who takes an interest in Stratfor or issues of global geopolitical existentialism, please introduce yourself; we probably ought to meet.]
First, if you don't already know, Rachel Marsden describes herself as a: "political/geopolitical and communications strategist/analyst, Radio/TV presenter, internationally syndicated columnist with (Chicago) Tribune Company, author, and speaker." Whew. I've read that she is Canadian and lives in Paris (France, not Texas). Rachel has been compared to Ann Coulter and has done work for Fox News, Spectator Magazine, The O'Reilly Factor, the New York Post, Washington Times, and conservative politicians.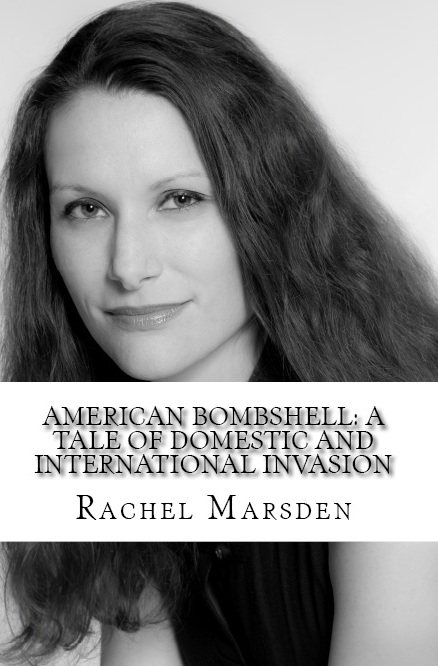 Ms. Marsden also has a new book called American Bombshell, which  prominently [The entire cover, actually] displays her attractive face and flowing dark tresses with the title information plastered across her chest. I'm not suggesting that there is something wrong with any of this, and I haven't read the book. I suspect that the book addresses serious explosive national and international issues, and that the subliminal implication that Rachel is an "American Bombshell" is entirely unintentional. But, I'm drifting into Rush Limbaugh territory here, so let's backpedal real fast and move on.
In today's column, Rachel reviews recent Stratfor events and then begins to pick at the fatty pieces [I visualize a vulture ripping at road kill]. Her second paragraph leads with a statement about the CIA using private intelligence firms for "black ops" in a way that seems to imply that Stratfor is involved in killing people for hire. Does she really think that or is she just shredding a victim? Not nice, smarty pants.
My favorite rant (a real beaut) is buried in the middle of the piece:
"Do you know how a lot of these outfits in the thriving private intelligence sector operate? The company CEO, usually a former agency employee who has maintained UMBRA or "Top Secret" clearance, meets with a private or state client to pitch his outfit's services, then passes off the analysis work to some book-smart/sidewalk-stupid naif who has just been dragged kicking and screaming into the real-world workforce after frittering away a good decade or so ringing up a party tour of Ivy League schools on mommy and daddy's AmEx black card."
You know, I just somehow doubt the objectivity at work here. Smarty pants may even have her pants on fire. It's an impressively mind-numbing run-on sentence that runs you over and sets your hair on fire. For another thing, it sounds a lot like a liberal's take on George W. Bush's early years. But, that's another story.
How do you answer a statement like that? How about: "Um, what are your sources for that and how did you come to that conclusion?"
I also want to ask, "As an advocate for conservative causes, such as private business contracts to replace big government control of the means of serving public interests, aren't you eating one of your own sacred cows?"
[amz-related-products search_index='Books' keywords='stratfor geopolitics' unit='grid']